There is now a treatment for COVID-19 for those who are most at risk of severe disease, hospitalization or death. If you have been diagnosed with COVID-19 in the past 10 days, you might be eligible for this treatment. Please refer to this document and contact your primary care provider. If you do not have a primary care provider, please call the clinic to make an appointment for a consultation.
COVID-19 Information
The Center for Healing & Hope is a COVID-19 testing site for The Center for Healing & Hope is a state of Indiana sponsored COVID-19 testing site. Testing is available for everyone. The drive-through testing site is located at 902 S Main St., Goshen, in the parking lot behind Plymouth United Church of Christ.
In times of high volume, staff will make a determination on when to end the queue based on the amount of cars in line. It is possible you may not be able to receive a test even if you were in line prior to the end times listed. It's always best to arrive as early as possible. During high surges, we are seeing 2-3 hour wait times.
Tests are available to everyone, regardless of symptoms. Testing is free, however, donations are appreciated.
Rapid tests are available during all testing hours, subject to availability.
HOURS:
Mondays & Fridays: 8:00 a.m. – 2:00 p.m.
Tuesdays & Wednesdays: 1:00 p.m. – 6:30 p.m.
Every 3rd Saturday of the month: 9:00 a.m. – 12:00 p.m.
No Testing Thursdays or Sundays.
To pre-register visit: scheduling.coronavirus.in.gov
Pre-registration is not required, but it will help speed up the process. Due to the amount of people coming for testing, we are unable to honor specific appointment times. Having an appointment will, however, ensure you are able to get tested on the day of your appointment as long as you arrive prior to our site closing.
If you have questions about what your test result means, you may request a $40 consultation with a licensed medical provider to discuss your specific situation.
Información de
COVID-19
El Centro de Salud y Esperanza es un sitio de pruebas de COVID-19 patrocinado por el estado de Indiana. Las pruebas están disponibles para todos. El sitio de pruebas de conducción se encuentra en 902 S Main St., Goshen, en el estacionamiento detrás de plymouth Iglesia Unida de Cristo.
En momentos ocupados, el personal médico determinará cuándo finalizará la línea de servicio. En caso de que la fila de espera sea larga, es posible que usted no pueda recibir el servicio de prueba incluso si estuvo en fila antes de las horas designadas. Siempre es mejor llegar lo mas antes posible. Durante estas etapas ocupados, estamos viendo tiempos de espera de mas de 3 horas.
Esta prueba es disponible para todos, independientemente de los síntomas. Las pruebas son gratuitas, sin embargo, las donaciones son apreciadas.
Las pruebas rápidas están disponibles durante todas las horas de prueba, sujetas a disponibilidad.
HORAS:
Lunes & Viernes: 8:00 a.m. – 2:00 p.m.
Martes & Miércoles: 1:00 p.m. – 6:30 p.m.
3er sábado del mes: 9:00 a.m. – 12:00 p.m.

No hay pruebas jueves o domingos.
Para preinscribirse visite: scheduling.coronavirus.in.gov
Si usted programó una cita, ayudará con el proceso de No es necesario realizar el registro previo, pero ayudará a acelerar el proceso. Debido a la cantidad de personas que vienen a las pruebas, no podemos cumplir horas de citas específicas. Tener una cita, sin embargo, se asegurará de que usted sea capaz de ser probado el día de su cita siempre que llegue antes de nuestro sitio de cierre.
Si tiene preguntas sobre lo que significa el resultado de su prueba, puede solicitar una consulta de $40 con un proveedor médico autorizado para analizar su situación especifica.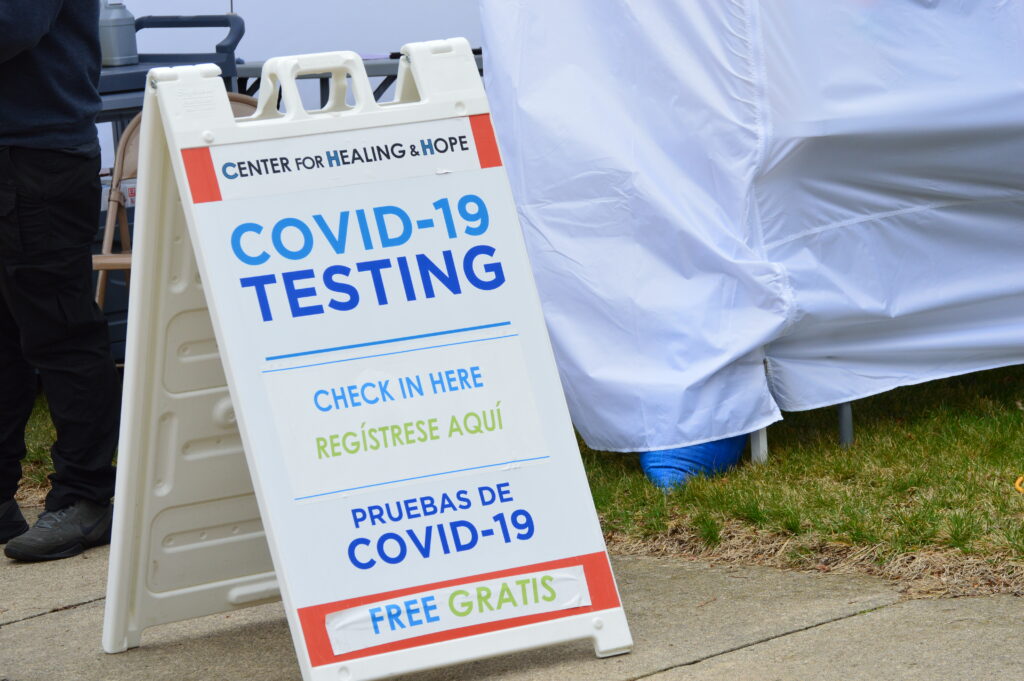 Center for Healing & Hope will not require those who need to be tested (exposed, symptomatic, diagnosed) to pay for COVID-19 testing, however, we will bill private insurance and the HRSA Fund for the Uninsured created by the CARES Act.
Listed here are our cash prices for the purpose of transparency in billing:
Collection of blood or nasal specimen for COVID-19 testing (G2023): $75
Chembio antibody test (no longer available) (86328-QW): $150
Healgen antibody test (86328-QW): $175
Abbott ID Now molecular test (87635-QW): $150
BD Veritor Antigen test (87462-QW): $150
Influenza rapid test: (87804-QW):$75
For more information, call 574-534-4744 x206.