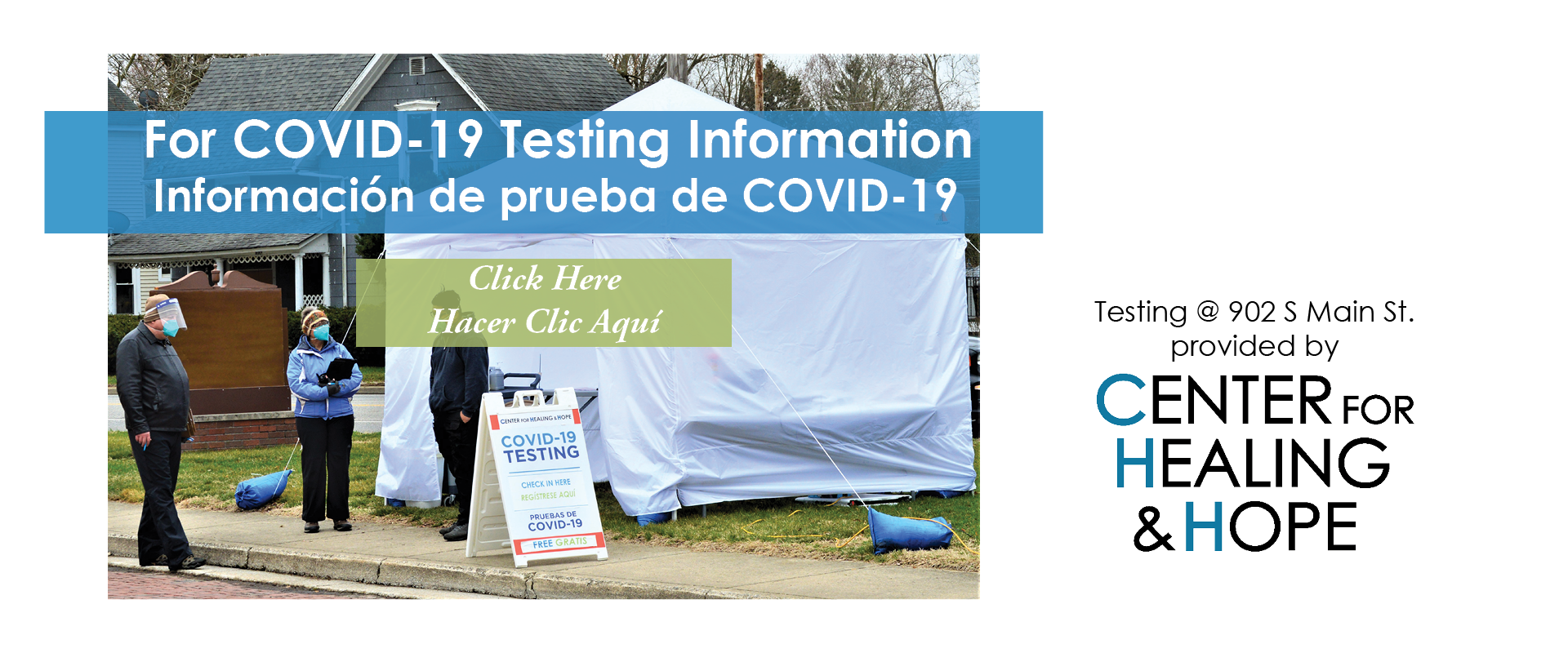 CHH hours_InfographSPANISH_2021
The place where healing and hope meet
For over 20 years, the Center for Healing & Hope has provided medical and advocacy services in a Christ-like manner to meet peoples' needs in Elkhart County.
We are committed to bringing healing to our community by providing medical care for people who are uninsured or under-insured, who do not have a family physician, and/or with few resources to pay for care.
We are scheduling urgent care by appointment only. Please call the clinic for availability. 574-534-4744
Estamos programando atención urgente solo con cita previa. Llame a la clínica para conocer la disponibilidad. 574-534-4744
Call 574-534-4744 to schedule an appointment.
Connect With Us
400 W. Lincoln Ave., Goshen, IN 46526
Mailing address: CHH, P.O. Box 195, Goshen, IN 46527-0195
Phone: 574-534-4744
Fax: 574-537-1186
Email: info@chhclinics.org
Phone & Office Hours
9:00 a.m. – 4:30 p.m., Monday – Friday
Closed from 12:00 p.m. – 1:00 p.m. for lunch
The Center for Healing & Hope is a state of Indiana sponsored COVID-19 testing site. Testing is available for everyone. The drive-through testing site is located at 902 S Main St., Goshen, in the parking lot behind Plymouth United Church of Christ.
In times of high volume, staff will make a determination on when to end the queue based on the amount of cars in line. It is possible you may not be able to receive a test even if you were in line prior to the end times listed. It's always best to arrive as early as possible. During high surges, we are seeing 2-3 hour wait times.
Making an appointment is not required, but will speed up the process. Due to the amount of people we are testing, and the fact that we are a drive-up site open to anyone, we are unable to test you at your specific appointment time. However, making an appointment will ensure that you will be tested the day of your appointment, regardless of whether we have ended the line.
CLICK HERE FOR TESTING DETAILS
Rapid tests are available during all regular testing hours subject to availability.
HOURS:
Mondays / Fridays: 8:00 a.m. – 2:00 p.m.
Tuesdays / Wednesdays: 1:00 p.m. – 6:30 p.m.
3rd Saturday of each Month 9:00 a.m. – 12 p.m.
No Testing Thursdays or Sundays.
If you have questions about what your COVID-19 test result means, we provide $40 consultations with a doctor to discuss your specific situation.
We believe testing, proper safety measures, and vaccination is the way we will get our community spread under control, and get people back to work.
El Centro de Salud y Esperanza es un sitio de pruebas de COVID-19 patrocinado por el estado de Indiana. Las pruebas están disponibles para todos. El sitio de pruebas de conducción se encuentra en 902 S Main St., Goshen, en el estacionamiento detrás de plymouth Iglesia Unida de Cristo.
En momentos ocupados, el personal médico determinará cuándo finalizará la línea de servicio. En caso de que la fila de espera sea larga, es posible que usted no pueda recibir el servicio de prueba incluso si estuvo en fila antes de las horas designadas.  Siempre es mejor llegar lo mas antes posible.  Durante estas etapas ocupados, estamos viendo tiempos de espera de mas de 3 horas.
No es necesario hacer una cita, pero acelerará el proceso. Debido a la cantidad de personas que estamos probando, y el hecho de que somos un sitio de conducción abierto a cualquier persona, no podemos probarlo en su hora de cita específica. Sin embargo, hacer una cita se asegurará de que usted será probado el día de su cita, sin importar si hemos terminado la línea.
HAGA CLIC AQUÍ PARA VER LOS DETALLES DE LA PRUEBA
Las pruebas rápidas están disponibles durante todos los horarios regulares de pruebas, sujeto a disponibilidad.
HORAS:
Lunes / Viernes: 8:00 a.m. – 2:00 p.m.
Martes / Miércoles: 4:00 p.m. – 6:30 p.m.
3er sábado de cada mes 9:00 a.m. – 12 p.m.

No hay pruebas jueves o domingos.
Si tiene preguntas sobre lo que significa el resultado de su Si tiene preguntas sobre lo que significa el resultado de su prueba de COVID-19, proporcionamos consultas de $ 40 con un médico para discutir su situación específica.
Creemos que las pruebas, las medidas de seguridad adecuadas y la vacunación son la forma en que controlaremos la propagación de nuestra comunidad y haremos que las personas vuelvan a trabajar.
We are committed to bringing hope to our immigrant neighbors and communities through providing resources and advocacy services to those in need.
We believe that everyone deserves the best care, support and assistance we can give, regardless of who they are or where they are from. That is why we are committed to the well-being of each individual and the neighborhoods and communities where they live.
If you or someone you know is an immigrant and in need of local resources, please click here to learn about Elkhart County Hope Network, Goshen Resident ID (GRID), and our Immigrant Resource Guide. Call 574-534-4744 to learn more.