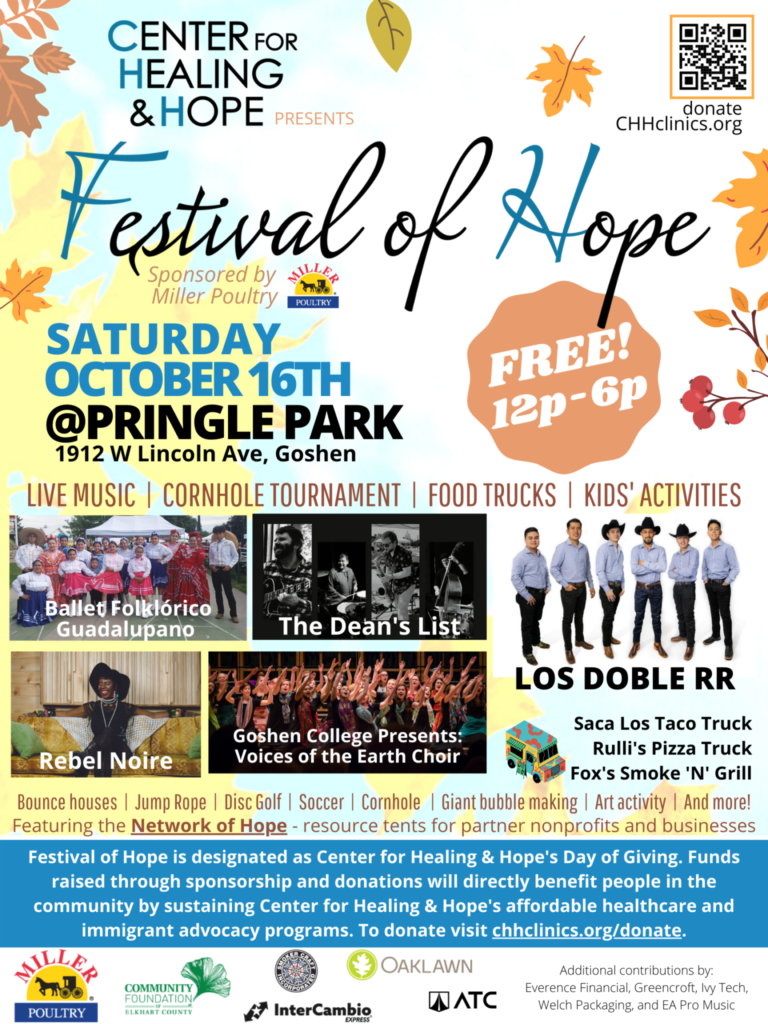 Join us for the first annual Festival of Hope! A day of celebration, hope, and generosity.
Saturday, October 16th
12pm-6pm
@ Pringle Park
1912 W Lincoln Ave., Goshen, IN 46526
This inaugural event is designated as Center for Healing & Hope's Day of Giving. Funds raised through donations and sponsorships will benefit the affordable healthcare and immigrant advocacy programs Center for Healing & Hope offers. To donate to our Day of Giving simply click the button below and click Festival of Hope under "Apply My Donation To." If you are new to giving, or just discovering our organization, please feel great knowing your donations stay right here in the community and assist with things like: covering costs for monthly diabetes program fees for those unable to pay, allowing immigrants to get a GRID card free of charge, providing financial assistance for food, housing or utility bills for those facing economic hardships, providing urgent care services for those unable to pay, and allowing our organization to not only sustain these programs but to grow in order to continue bridging the gap to equitable care and advocacy for all.
FESTIVAL HIGHLIGHTS:
Live Performances by:
Ballet Folklórico Guadalupano
Voices of the Earth Choir from Goshen College
Rebel Noire
The Dean's List
Los Doble RR
Food Trucks: Saca Los Taco Truck, Rulli's Pizza Truck, Fox's Smoke 'N' Grill
Featuring the official doubles cornhole tournament of Festival of Hope!
To register for the cornhole tournament click here!
We are also excited to offer the Network of Hope – a resource tent for partner nonprofits and sponsors sharing information for the various great programs available in the area. Featuring:
Northern Indiana Hispanic Health Coalition
National Immigrant Justice Center
CAPS
La Casa de Amistad
Chain Reaction bicycle project
Department of Environmental Resilience
La Casa
Interfaith Hospitality Network
Seguimos Avanzando
There will be lots of activities for kids and families including bounce houses and additional cornhole boards for all to enjoy. And the best part, it's FREE to attend! We will have donation stations available onsite if you'd like to contribute to our Day of Giving, but we want to provide the opportunity for all to enjoy a day in the park with live entertainment, tasty food, and some great local organizations doing great work in the community! See you there!