Two new staff members have joined the Center for Healing & Hope: Sandra Camacho as office manager and volunteer coordinator, and Erin Castro as medical assistant.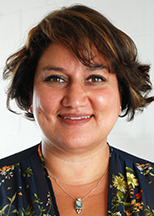 Sandra is office manager and volunteer coordinator, working in the Center's administrative offices. She will coordinate volunteers who work in non-medical roles with the Center, including clinic chaplains, registrars and cashiers. She previously worked for Concord Community Schools in a variety of roles, including teaching English as a Second Language, assistant business manager, managing registration and secretarial work.
"I love working with people and I like networking," Sandra said. "I'm looking forward to using my administrative background and ability to do interpreting to connect people with resources. I'm especially interested in working in an organization that has a purpose of helping the community."
Erin, as medical assistant, will work closely with Dr. Michelle Shelly, a physician who has recently joined the Center's staff. She will assist with gathering information from patients, doing some laboratory tasks and maintaining medical records.
Several years ago, when Erin was working toward an AA degree as a medical assistant, she did an externship at the Center for Healing & Hope in the two sites the Center then had in Elkhart as well as the long-standing Goshen site. She has worked with Dr. Shelly for three years in her practice in Goshen. She also is currently working toward an RN degree.
"I'm glad to be a part of the community outreach that offers extended clinic hours as well as chronic care," Erin said.
Bryan Mierau, executive director of the Center, said, "Both Sandra and Erin join CHH at a time when we are building capacity for extended services to help our chronic care patients better manage their illness. Each is highly committed to our mission to provide medical and advocacy services in a Christ-like manger to meet community need. I look forward to their enriching our team through who they are and what thy will offer."
Camacho assumes some of the responsibilities of Dominique Chew who has served as office manager, volunteer coordinator and immigrant resources coordinator for a little over a year. Chew is leaving the Center to pursuing graduate studies. The immigrant resources coordinator role is now being taken by Marbella Chavez who also is patient advocate and community health worker.